About Me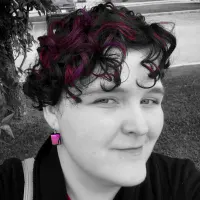 I taught myself to knit more than 15 years ago, and I love to come up with new ideas about knitting! Although I'm often trying out something unique with my patterns, "easier than they look" is my goal — I provide lots of video tutorial links for required techniques, and all patterns are edited and tested to ensure quality and clarity. Pattern support is provided via email with a 24-48 hour response time.
As a dedicated science nerd, my designs are often inspired by natural phenomena and the diversity of life on Earth. I love bright colours, and once in a while I do something that's just ridiculous!
Store Policies
All products in my store are digital PDF patterns. After payment, you will receive an email with a download link. As they are digital products, returns are not accepted and purchases are non-refundable. If you experience technical issues accessing your pattern file(s), please email me for assistance.
With your pattern purchase, you also receive indefinite access to all future versions of that pattern; you will be notified of these document updates via email to the address you provided at the time of purchase. You will not receive any other communication from me without your express consent.
Professionally-printed versions of my patterns for in-store sales and kits are available for wholesale through Deep South.
Latest Pattern Releases All My Designs Love My Patterns?